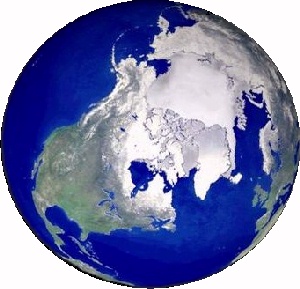 The Race for Arctic Oil
North of Russia and Canada, in the Bering Sea and Baffin Bay inbetween Canada and Greenland is vast regions of International Waters, with vast resources of oil lying below the earth's crust.
The problem with International Waters in the Arctic Ocean is that no one owns the sea, so basically anyone can drill there, tap it for oil and ship it to whatever country willing to pay the most (or hoard it to themselves for economics reasons).
With the speedy progress of global warming previously ice-jammed areas of the arctic sea are now safe to explore and map, don't think it is yet safe to drill for oil. Icebergs floating down from the high arctic can still do considerable damage to an oil rig (Titanic anyone?).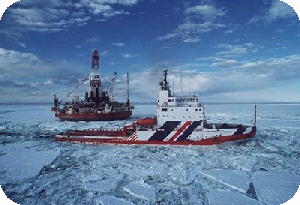 So in the meantime the lower reaches of the arctic are available for oil exploration, but like lake fishing the best spots usually get taken pretty quickly. In the next few years the lower arctic regions are going to be abuzz with test drillings, oil rigs and tug boats escorting dangerous icebergs.
The environmentalists are going to be spitting hellfire by the time it gets into fullswing and preaching the virtues of hydrogen cars.
But there are other issues as well.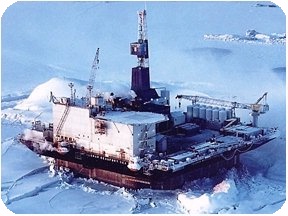 Denmark (which owns Greenland) has laid claim to Canada's most northern reaches of land (which geologists believe may contain gold, uranium and other precious metals). Canada says that land is clearly theirs and occupied by Canadian people, but this is not entirely true. The most northern Canadian settlement is Resolute. Beyond that, at the extreme tip of Canada's sovereign territory is Alert, a military base and radar tower. Denmark argues that the region inbetween Alert and Resolute (the Queen Elizabeth Islands) belongs to Denmark and is part of Greenland.
But if settlement equals ownership where is Denmark's settlements in Northern Canada? There isn't any. It is a stupid argument. The closest Danish settlement is Qaanaaq on Greenland itself.
And this dispute is now becoming a military issue as the Canadian coast guard patrols the region and has spotted submarines breaching the surface ice. Is Denmark sending its submarines to explore the region? Currently only Canada and its NATO allies are supposed to have submarines in that region, but military records show that other countries (not just Denmark) seem to be exploring and mapping the region.