The Death Spasms of American Racism
The Politics eZine - United States
---
This Website is Best Viewed Using Firefox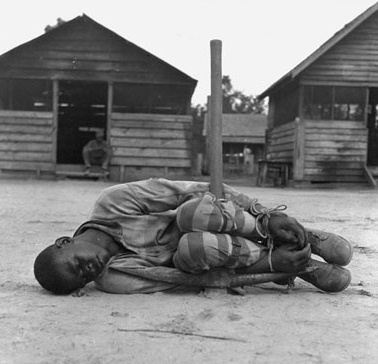 Hope for Change
[Editor's Note: It wasn't that long ago that people in the United States lynched black people. Oh wait they still do. We picked this article by Sheila Musaji because it lists recent examples of racism in America.]
By Sheila Musaji.
I believe that most Americans saw the election of Barack Obama as a sign that things were changing, that racism has been put aside, that racial reconciliation was possible. Most Americans saw the election of Barack Obama as representing a huge, positive, hopeful shift in what was possible, and even normal, in American thinking. Aside from any purely political issues, the election of a black man to the highest office in the U.S. was a sign of HOPE for a future where race was not an issue.
For those of us who were involved with the civil rights movement in the 60's and 70's seeing President Elect Obama on the stage at Grant Park with his family and two little girls brought back vividly pictures of other little black girls like the one in the Norman Rockwell painting The Problem We All Live With which depicts Ruby Bridges, the little girl who integrated the New Orleans school system in 1960, being escorted to her class by federal marshalls in the face of hostile crowds. Look at that painting and then look at a photograph of the Obama family and you can't help but believe that we have come a long way, and you can understand why so many had tears in their eyes.
Brady Carey an Instructor of Speech at Mt. Hood Community College clearly stated why HOPE for a better future is the majority response to the election of Barack Obama: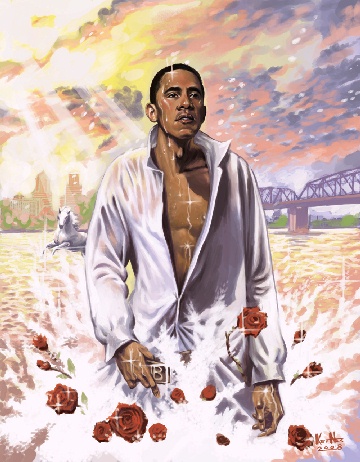 "It was past nine when I received the news. A moment rarely experienced, a moment that comes maybe once in a lifetime. I look upon the TV and suddenly feel my body go numb. I don't deny it. It's a feeling I have been waiting for over two years (actually for most of my life). I thought we have finally reached the ideas for what this country represents. Well, maybe the ideals have been realized and now they are within reach. This moment is so important, so huge, that I'm sure it will take years to fully realize. Yes, Barack Obama has been elected president!
Reading the screen, my eyes begin to well. And within a second, I have transcended all the meanings of this event. Barack Obama hasn't just been elected the next president it's much more than that. This victory doesn't just belong to him, but all of us. It belongs to my Father who fought in World War II to destroy racism. It's for my Mother who battled her way through corporate sexism. It's for my brother who raises his family with a blind eye and struggles to pay bills. It's for my best friend (a proud black-American) who can now say that "yes" anything is possible in light of obvious conflict. It's for my students whoever had a shadow of a doubt that their voice can make a difference. It's for all my fellow instructors who deny failure and embrace the honor to teach the next generation. It's for all of us who has ever been discriminated against (it's a long time coming). And last but not least, it's for all of us who stood up against the machine and fought for what is right.
As I watched my fellow Chicagoans gaze upon President-elect Obama giving his speech in Grant Park, I realized hope is something tangible, something that can be shared, and most importantly, necessary for the chance to make change. I think about the struggles that this country has endured and how far we need to go to heal. Now with our new captain at the helm, I believe the journey will be the next great American experience. We will stand united as a country living up, everyday, to the ideals for which it stands. Yes, we can! Thanks Barack for this moment and the ones to come!"
We saw and heard the racial, ethnic, and religious slurs before the election, and these still continue, but the response is different today than it was in the past. Jon Stewart in a segment of The Daily Show called Obama and Hitler commenting on Congressman Paul Broun's comparison of Obama to Hitler gave such racist ramblings exactly what they deserve - scorn and ridicule.
Racists, anti-Semites, Islamophobes, xenophobes, homophobes - still exist, and the death of racism and the other forms of prejudice is still not (and may never be) a "done deal". It is now however a reasonable hope that all of these forms of prejudice can be so marginalized that they lose their ability to have any meaningful influence on America. If we unite as AMERICANS in a concerted effort to consign any sort of prejudice to the dust bin of history, we can eradicate it from our society just as we eradicated smallpox. Prejudice is a disease of the mind. If we see the last pockets of prejudice and racism in America as a disease that requires us to act in order to eradicate them, we can succeed. YES, WE CAN! If we take a stand when we hear ethnic jokes, or innuendos, or outright demeaning words or slander directed towards any particular group (because of their race, ethnicity, religion, gender, sexual-orientation, etc.) WE CAN move forward.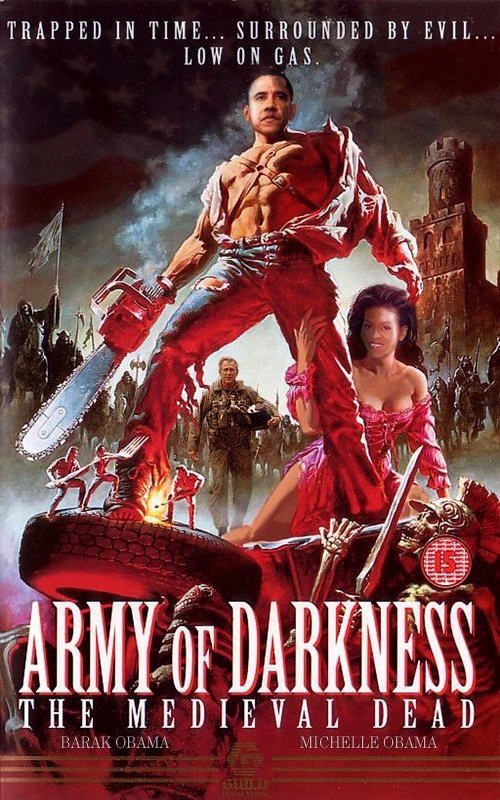 Of course, the disease metaphor also implies the danger we face. Polio, which has been eradicated in the United States, does still exist in the world. Without constant vigil and continuing attempts to educate and assist in the total destruction of the disease, it can easily reemerge and spread.
Similarly, we need to do everything in our power to eradicate the reservoirs of fear and hate. Those who believe that they are superior to others based on their skin color, sexual orientation, religion, race, or nationality must learn that we are sick and tired of their outdated, uneducated, destructive prejudices. We simply aren't going to tolerate their expressions of hatred any more.
If the prejudice is acted out in such a way that it is a hate crime or civil rights violation, then the offenders need to be prosecuted. If the assault on others is verbal, then the offenders may have a first ammendment right to freedom of speech, but we also have a right to use our free speech to let them know that their comments are barbaric and that we don't want to hear them. We need to openly protest when we hear anything that offends our sensibilities. Racists may have a right to speak their mind, but so do we.
I think that the following list of shameful racist incidents during and after the election process are important to look at and analyze. My personal take on this is that what we are seeing is the "darkness before the dawn", the dying gasp of racism among a minority of Americans who simply haven't realized, or had it made clear to them that their world view is no longer relevant. The racists, fewer and further between, are lashing out in desperation, exhibiting the death spasms of their culture. The racists are the past, and those who celebrate our wonderful variety as Americans are the future. We can't ignore these racist incidents because they show that racism is still an issue and will remain an issue until WE, each and every one of us stands up and defies the racists. They have no power unless we give it to them. We don't need to fear the guys in the white robes and pointy hats, or any other racists, we need to shine a light on them.
The Anti-Defamation League (ADL), which monitors and exposes extremist activity and rhetoric, said anger among white supremacists and other right-wing extremists in response to Obama's victory resulted in an avalanche of vitriolic postings on racist Web sites. This is one example of the "lashing out" of racists in their cultural death spasm.
The terrible examples of racism make the news, and remind us that we still have a ways to go, but the death of American racism will be among the many exponentially increasing changes of our times.
What is most hopeful is that the reaction to these racist incidents on the part of the majority has been strong. Racist incidents provoked Solidarity events at Colgate University, and an anti-racism rally at Yale, Bryn Mawr will have a series of anti-racism workshops, the faculty at St. Joseph's University is offering suggestions for improving race relations, hundreds of students participated in a Unity March at Baylor University, North Carolina State students lobby for hate crime act in response to campus incidents. All over the country, a small number of individuals were involved in hateful, racist incidents, but the response they received was a resounding - NO YOU CAN'T! You can't take us back down that road.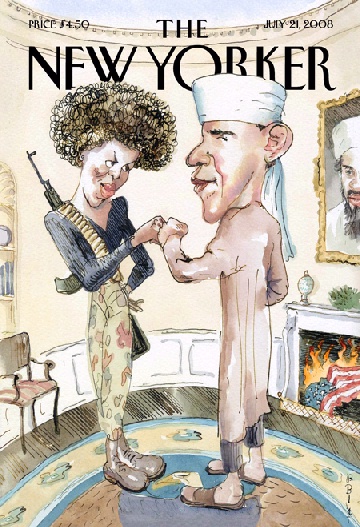 The death spasms of American racism:
At the University of Alabama, an Obama poster on a faculty member's office door was defaced with a message said "He'll be shot..." followed by the "N" word.
In Fullerton, California "Two gang members pleaded not guilty Thursday to hate crime and attempted robbery charges in connection with the beating of a black man who was trying to buy cigarettes at a Fullerton liquor store." The two men shouted racial and anti-Obama epithets in the attack.
In Temecula, California, authorities found spray-painted graffiti on a city sidewalk containing a swastika and anti-Obama slogan
In San Bernadino, California, Diane Fedele of the 'Chaffey Community Republican Women' sent out "Obama bucks" fake food stamps which included racist stereotypes.
In San Marcos, California commuters and people walking their children to school saw a series of racist signs threatening presidential candidate Barack Obama, African-Americans and Muslims. One sign spray-painted on an electric utility box read "Death to ni--ers, Muslim and Obama." At least two other similar signs were spray-painted in the area, one of them near San Elijo Middle School.
In Torrance, California vandals spray-painted swatiskas and racial slurs on the home and cars of several Torrance residents who had displayed campaign signs or bumper stickers supporting President-elect Barack Obama
At Quinnipiac University in Hamden, Connecticut police are investigating several complaints of racism including slurs and harassing phone calls directed at black players on the school's basketball team, and slurs written on poster and cork boards outside the dorm rooms of three black players.
In Washington, D.C. at the Value Voter Summit sponsored by the Family Research Council, a booth sold Obama Waffles - a box of waffle mix emblazoned with a cartoon image of a bug-eyed, toothy, dark-lipped Barack Obama eyeing a plate of waffles. A pat of butter on the waffles is stamped "2008". On the top flap, the Obama carton appears in a turban, next to an arrow printed with the text: "Point box toward Mecca for tastier waffles."
In Marietta, Georgia a local bar made and sold a racist Obama t-shirt.
In Idaho, a bus load of elementary school children chanted "assassinate Obama".