North Korea
The Politics eZine - Asian Politics
---
This Website is Best Viewed Using Firefox
The Cold War Relic that America Forgot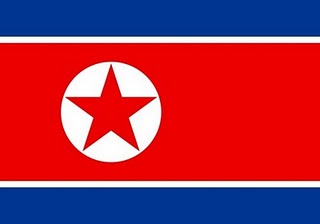 By Charles Moffat - May 2011.
North Korea (the Democratic People's Republic of Korea or DPRK) is a country occupying roughly half of the Korean peninsula (the southern half is occupied by South Korea), a country which has been in a state of Cold War (hostile, but avoiding open warfare) since the end of the Korean War.
Geography wise North Korea borders with China in its north-west along the Amnok River, Russia in its north-east along the Tumen River, and with South Korea directly south of it.
As a heavily populated Asian country North Korea has approx. 24.46 million people (as of July 2011, as estimated by the CIA World Factbook) with a median age of 32.9 due to low standards of health care for the elderly. This lack of good health care coupled with a high infant mortality rate and widespread poverty has resulted in a relatively low population growth rate of 0.538%. The average North Korea has a life expectancy of 68.89.
Unlike other Asian countries many North Koreans still live on farms. Only 60% of North Koreans live in cities. But this is only a peek at the reality which is North Korea, a country which still operates under a feudal system of Kings and Princes.
The Hermit Kingdom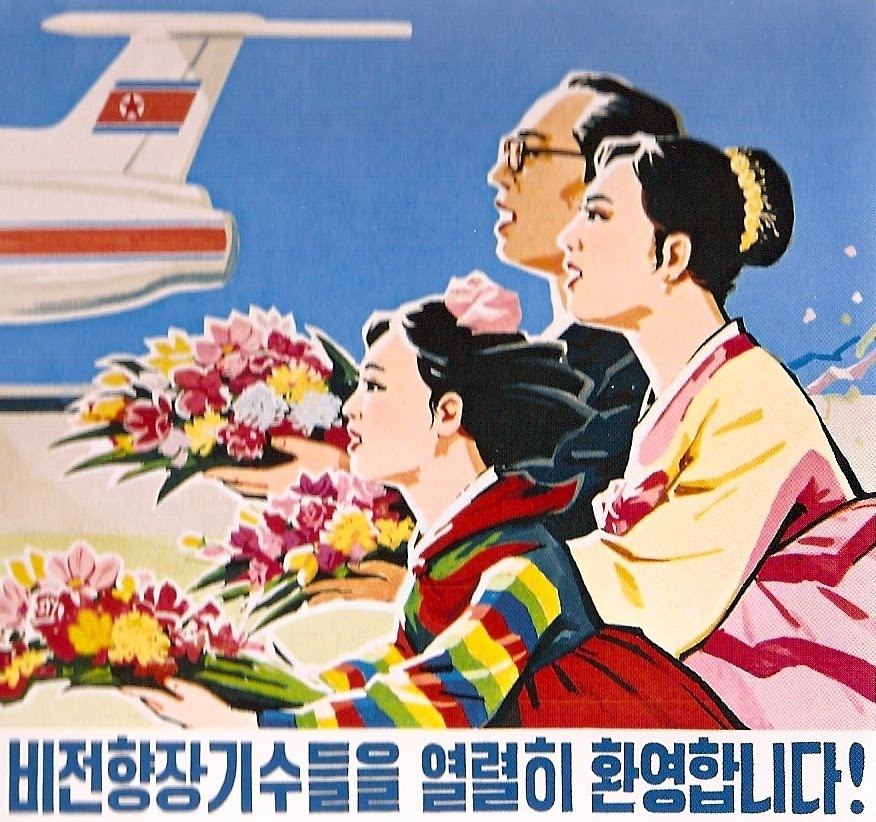 Since the end of the Korean War, the North Korean government has isolated their country from the rest of the world. Much of their technology is relics from the 1950s, and while they may pretend to be multicultural with respect to a tiny number of ethnic Chinese and Japanese living within their borders, outsiders have been forbidden and eradicated. The North Koreans believe themselves to be a superior master race (even some South Koreans believe this) deserving of ruling the world. Any claims to racial harmony within North Korea's borders is mere propaganda.
Likewise North Korea has virtually eradicated all other religions, and instead have set up government sponsored religious groups to provide the illusion of religious freedom. The government sponsored groups are there both as a propaganda tool and to catch North Koreans who refuse to follow the official government religion.
Irreligion: 64.3%, the vast majority of which follow Juche philosophy and sometimes give lip service to religion.
Korean shamanism: 16%
Cheondoism: 13.5%
Buddhism: 4.5%
Christianity: Less than 1% and heavily suppressed. 166 priests/bishops have been kidnapped and/or killed since 1950. Every church in North Korea has since been destroyed. North Korea claims there is 14,000 Christians still in North Korea, but that number may just be for show.
Korean is the primary language. Knowledge of other languages is strictly monitored, with rare exceptions for diplomats and military personnel. Even athletes traveling overseas are limited when learning other languages, for fear of making it too easy for them to defect when competing overseas. North Korea has an 100% literacy rate, as does South Korea. This is because the Korean Alphabet (Hangeul) is completely phonetic and very easy to learn. It takes just a few days to memorize.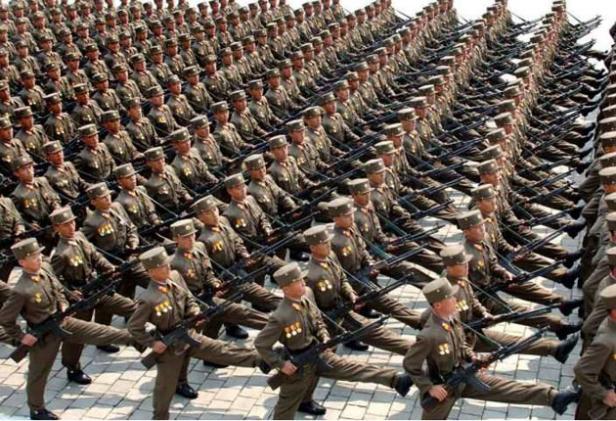 North Korean Military
The North Korean People's Army consists of Ground Forces, Navy, Air Force and civil security forces (effectively the North Korean version of the CIA / FBI). Military service is mandatory at the age of 17.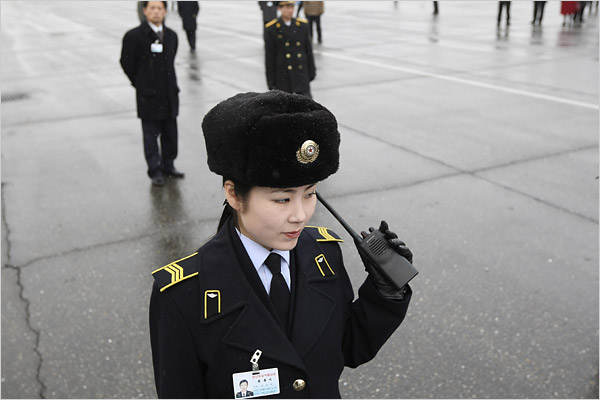 North Korea doesn't limit itself to male soldiers. As one of the industries that always needs more people, many women are also in the military. Public schools operate a bit like military prep schools, to the extent that every man, woman and child in North Korea has been drilled for war and to hate the United States, South Korea and Japan.
Officially North Korea has 9.495 million active, reserve, and paramilitary personnel, but in reality closer to 20 million North Koreans are trained for military service which makes them one of the largest standing armies in the world. It is fortunate that they have a shortage of military equipment like tanks, fighter jets and submarines.
The North Korean People's Army is believed to operate the following list of equipment:
4,060 tanks
17,900 artillery units
11,000 air defence guns
10,000+ MANPADS and anti-tank guided missiles
915 Naval vessels
1,748 aircraft, including 478 fighters and 180 bombers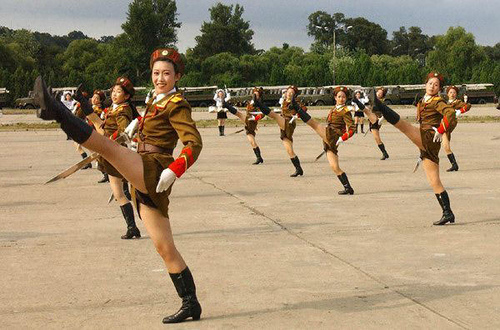 The equipment includes a mix of WWII vehicles and weapons, Cold War tech, and rare examples of modern Soviet or Chinese weapons.
They've also developed GPS jammers, stealth paint, midget submarines and human torpedoes, chemical and biological weapons. According to North Korean propaganda they claim to have anti-personnel lasers. Military expenditures are approx. 15.8% of the North Korean state budget (2010 figure).
The biggest development in the North Korean military is the testing of a nuclear bomb underground in 2009. Their nuclear missile program is the largest feature of the North Korean military and its unknown how many they have built. The CIA have estimated they have enough for at least 9 nuclear missiles by 2010.
North Korean History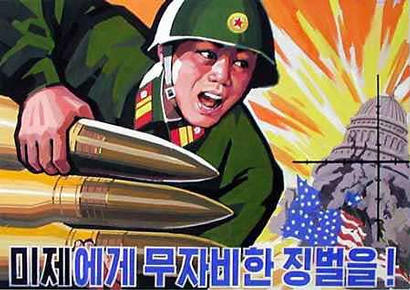 For centuries the Korean peninsula was controlled bu the Korean Empire, but it was later annexed by Japan after the Russo-Japanese War of 1905.
After the Japanese surrendered to the American in 1945, Korea was split into two countries (North Korea and South Korea) along the 38th parallel, under the control of the Russians and Americans. The United Nations tried to combine the two states into one in 1948 but North Korea refused to participate, believing that participating would put them under American rule.
Determined to control all of the peninsula, North Korea invaded the south in 1950, thus kickstarting the Korean War. The Americans and their allies came to South Korea's aid and eventually forced the North Korean military back across the border in 1953 (despite Chinese and Russian help for the North Koreans) and an armistice agreement was made, but no peace treaty was ever signed. More than 2 million civilians and soldiers were killed during the 3 year war.
North Korea and South Korea are still technically at war with each other.
The border between North and South has since become the Demilitarized Zone (DMZ) which serves as a buffer zone between the two hostile countries.
Both North Korea and South Korea were accepted into the United Nations in 1991.
North Korean Capital and Geography
North Korea's capital and largest city is Pyongyang. It is also North Korea's cultural and intellectual centre. Of North Korea's 24.46 million in population 3.26 million (13.3%) live in Pyongyang. The next largest city is Hamhung with 769,000 people.
Most of North Korea is rolling mountains or farmland, with varying degrees of rough terrain. 80% of North Korea is composed of mountains separated by deep and narrow valleys. Mountains with elevations of 2,000+ metres (6,600 ft) are more treacherous. The highest point is the Baekdu Volcano. The coastal plains are wide in the west. Most North Koreans live in the plains and lowlands.
North Korean Culture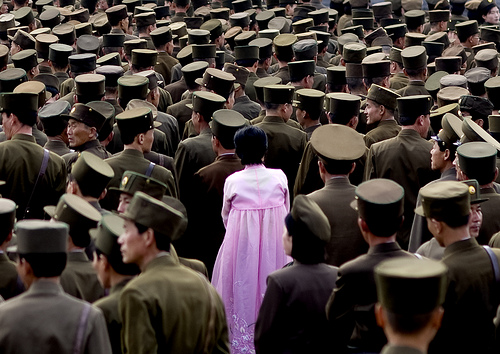 The North Korean Propaganda and Agitation Department controls most of the literature and arts, either to preserve traditional Korean arts or to promote Korean ideals. Outside influence from China, Japan and overseas is admonished. Part of this is a backlash again the Japanese occupation. Under Japanese rule, from 1910 to 1945, Koreans were encouraged to learn and speak Japanese, adopt a Japanese family name and Shinto religion, and were forbidden to write or speak the Korean language in schools, businesses or public places.
As a result many North Koreans have a severe hatred of all things Japanese and thus it makes sense that traditional Korean arts now falls into realm of hate propaganda.
The "Mass Games / Arirang" is a propaganda event held in Pyongyang, often involving over 100,000 performers, including gymnasts, dancers, martial arts, etc. Anti-west sentiments during the event have been toned down in recent years, but are still present. The purpose of the event is to celebrate the history of North Korea and the Workers' Party Revolution.
The North Korean Propaganda and Agitation Department employs over a thousand artists to make artworks using "Socialist Realism", often portraying North Korea as happy and prosperous, which is far from the reality of the poverty stricken nation.
Even dress is strictly controlled. Western style suits are forbidden. Men and women wear traditional Korean clothing, except for the military which uses standardized military uniforms.